I discovered some energy harvesting modules a few years ago made by
Advanced Linear Devices
and bought a couple of modules as a kit through
Mouser
to experiment with energy harvesting. The kit costs around $125 with shipping and included a EH300 module rated at 4.2 mJ and 1.8 to 3.6 V operation, and the EH300A module rated at 30 mJ and operates of the same voltage range. For a perspective on the how much energy these modules can store please seen my Nanoblog
Work, work, work
. The following two photos shows the front and back sides of the EH300 module.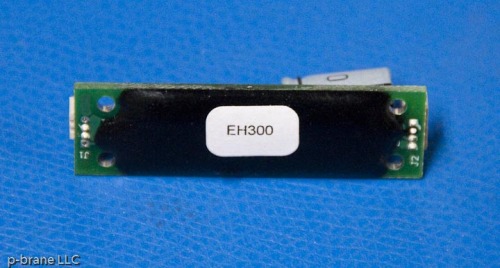 I hooked the output to an LED with a 91 ohm series resistor. The LED would dissipate 36 mW or 36 mJ/s. I got a piezoelectric film strip with a neon bulb attached to it at a conference expo. When you wave the the bulb around on the end of the strip hard enough, the bulb will light up. I thought this would be a great way to harvest energy so I cut the bulb off and wired the strip to the connector cable assembly and plugged the strip into the module. You can see the module, LED, and resistor in the photo below. After that, you cans see the piezoelectric film strip. I got tried of trying to charge the caps in the module so I carefully stuck the film strip into the blades of a muffin fan. The end of the film strip start to break off so I taped the end with electrical tape to protect it. If you connect the LED onto the module after it's finally charge, it flashes for an estimated 111 ms. I could improve the performance by selecting an more efficient LED but that might keep it on for 200 to 300 ms. The task now is to find a piezoelectric material that can produce more continuous power.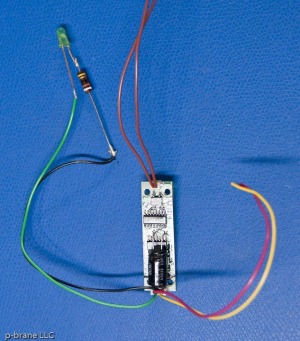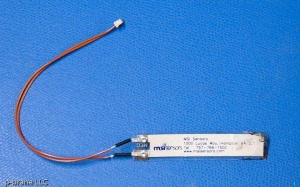 The last photo shows the EH300A module and cable assembly.