The Open Hardware Summit was held on April, 22, 2022 online with ~19 speakers from working on project around the world. Recordings of the talk can be found on YouTube and tweets about the summit can be found @ohsummit.
2022 Summit Team
The organizers of the summit did a fantastic job and included Lee Wilkins, Claire Cassidy, Sid Drmay, Nadya Peek, and Alicia Gibb.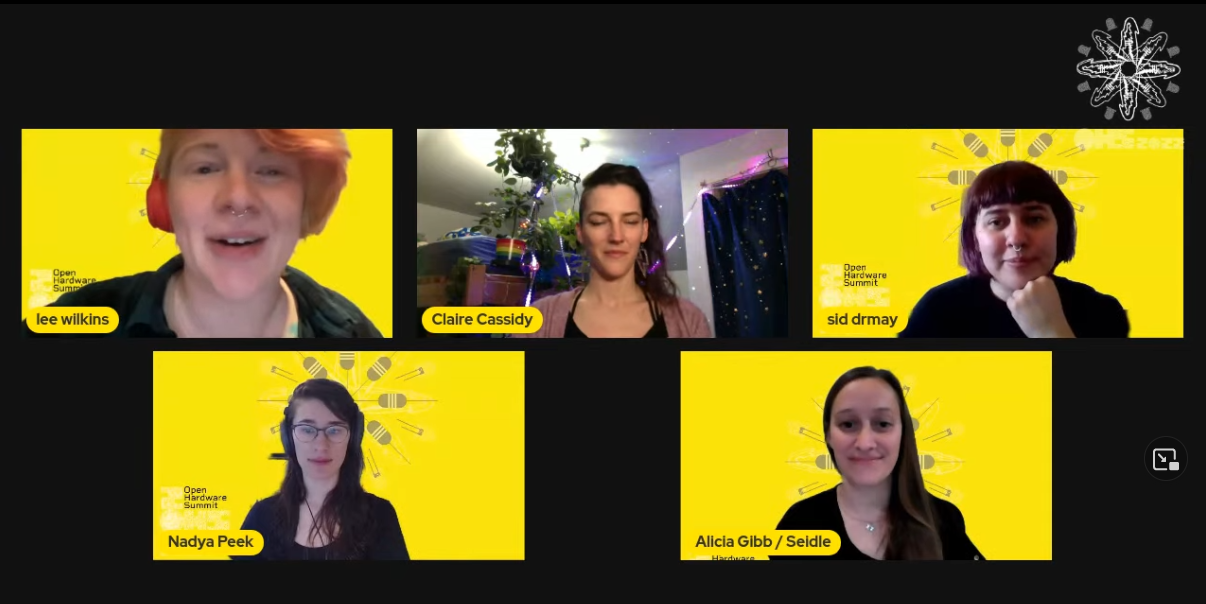 Summit Talks
My list of links and brief talk summary for each talk follows.
A Few Tools for Re-Imagining the Future
Ashley Jan Lewis
A Better Hardware Life Cycle: Build Stuff Without Feeling Like a Jerk
Alex Glow
How Frustration Led to Delft Open Hardware
Jerry De Vos
Open Source Tools for Making Open Source Hardware
Leon Anavi
Community-Led Distributed Manufacturing
Vaibhav Chhabra
Material Testing Procedure: How to Recycle All Kinds of Waste Plastic Via Pellet 3D Printing
Hellen Little
FluigiCAD – Building open source CAD tools to make microfluidics more accessible
Radhakrishna Sanka
Open Source Hardware for Science, in the Context of Public Policy
Alison Parker
Introducing an Open Systems Assembly Protocol, or, a proposal regarding how to build OSHW's modular, networked future.
Jake Read
Question Everything: How we Shipped an Open Hardware Laptop by Breaking all the Rules
Lukas F Hartmann
How the Open Hardware Observatory (OHO) can help publish hardware
Robert Miles
Equity-Driven Design
Dr. Alexander Adams
Open Source Toys for Endangered Animals
Andy Quitmeyer
How to Enable Anyone to Build their Own Renewable Energy System
Kathrin Weihe & Michel Langhammer
Knotty (Naughty) Hardware
Anuradha Reddy
Can Pretty Antennas be Practical? Designing cuteformal antennas for WiFi/Bluetooth integration
Christin Lundgren
Panel on Open Hardware and Health Tech
with Robert Viseur, Bérengère Fally, Samuel McDermott, and Robert L. Read
Berengere Fally
Samuel McDermott
Robert Read
Panel Discussion
Links